Thailand Factory (KOHBYO THAILAND)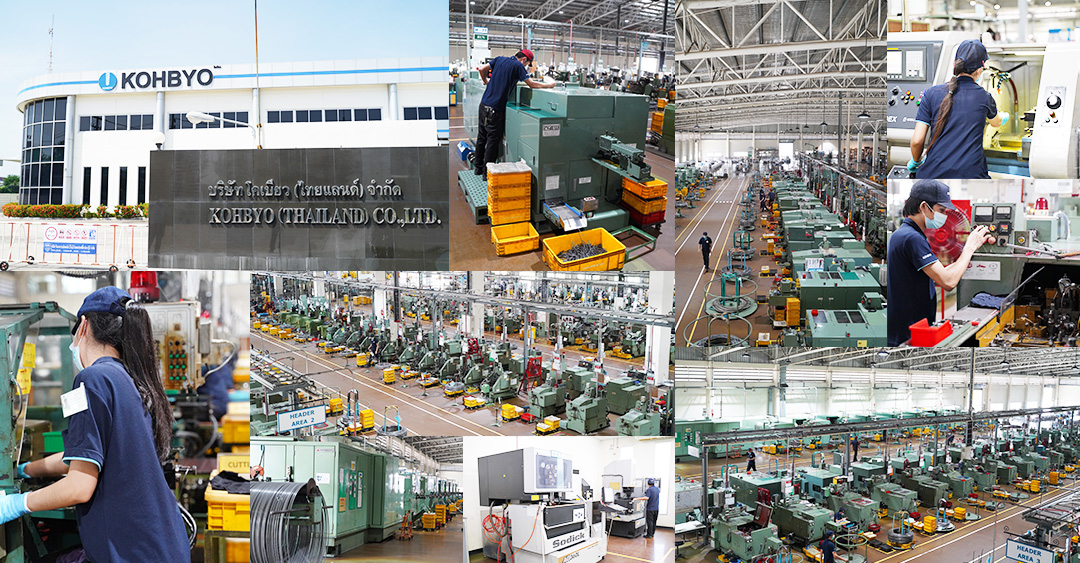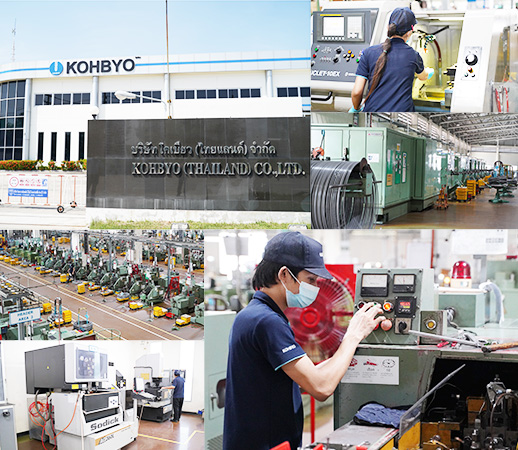 KOHBYO THAILAND was established as the first overseas base in 1994. The company has been pushing hard into acquisition of TS16949 (present IATF 16949) accreditation, introduction of large manufacturing machines, and construction of the new factory (present main factory), responding to changes in electric products to serve the needs of the times and a significant progress in the automotive industry, especially with Japanese automakers in Thailand. The company's mainstay has been shifted from parts for audio-visual apparatus to parts for automotive and motorcycle applications. KOHBYO THAILAND is proud of its capability to offer various parts in various sizes, from parts for the automotive industry to small parts for the electrical and electronic industry.
Special Heading Parts

The machines in the factory can use wire rods ranging from 0.8 to 20 mm in diameter as materials and support for external thread screws measuring 1.2 to 14 mm in nominal diameter. The factory implements total in-house designing and manufacturing of heading die. Along with making parts through heading, we are capable of secondary processing through rolling and cutting headed parts. All parts are finished with aftertreatment through heat treatment and plating of processed parts according to the requirements of our customers.
Outline

Company Name
KOHBYO (THAILAND) COMPANY LIMITED
Representative
President / Mr. Fumiaki Yamamoto
Director of Local Subsidiary
Director and Factory Manager / Mr. Hiroshi Endo
Location

●Main Factory


700/230 Moo 1 Amata City Chonburi Industrial Estate Tambol Bankao Amphur Phanthong Chonburi 20160 Thailand.



●Sub Factory


700/115 Moo 1 Amata City Chonburi Industrial Estate Tambol Bankao Amphur Phanthong Chonburi 20160 Thailand.
TAX ID
0105537148021
TEL

●Main Factory


+66-38-465768-70
+66-38-468646-7



●Sub Factory


+66-38-458152-5
FAX

●Main Factory


+66-38-465771



●Sub Factory


+66-38-214088
Established Company
December 16, 1994
Capital
THB 90 million (Full Ownership of Capital)
Major Shareholders
KOFUSEIBYO CO., LTD.
Number of Employees
180 Persons (Japanese Expat 5 Persons) As of November 2020
Size of Bases

●Main Factory


Site Area 20,941 m2 / Building Area 9,300 m2



●Sub Factory


Site Area 6,500 m2 / Building Area 4,950 m2
Production Equipment
Heading Machine (Parts Former) 5 units
Heading Machine (Header) 73 units
Rolling Machine 70 units
Cutting Machine for Secondary Processing (Bench Lathe) 33 units
Cutting Machine for Secondary Processing (CNC Lathe) 3 units
Main Business
Manufacture and Sales of Heading Parts
Main Customers
Automotive and Motorcycle Companies (Tier 1, Tier 2), Electrical and Electronic Companies
Certifications
・IATF 16949-1st Edition
・ISO 14001:2015
・Sony Green Partner


History

| | |
| --- | --- |
| Dec. 1994 | Established company in Thailand. |
| Nov. 1995 | The 1st factory is completed. (Present Sub Factory) |
| Dec. 2002 | KOHBYO (THAILAND) gained certification of Quality Management System ISO 9001. |
| Jun. 2004 | KOHBYO (THAILAND) gained certification of Environmental Management System ISO 14001. |
| May 2007 | KOHBYO (THAILAND) gained certification of Quality Management System TS 16949. |
| Aug. 2011 | The New factory is completed. (Present Main Factory) |
| May 2018 | KOHBYO (THAILAND) gained certification of Quality Management System IATF 16949. |

Access

Main Factory

[Address]
700/230 Moo 1 Amata City Chonburi Industrial Estate Tambol Bankao Amphur Phanthong Chonburi 20160 Thailand.
[TEL]
+66-38-465768-70
+66-38-468646-7


Sub Factory

[Address]
700/115 Moo 1 Amata City Chonburi Industrial Estate Tambol Bankao Amphur Phanthong Chonburi 20160 Thailand.
[TEL]
+66-38-458152-5

From central Bangkok

About 1 hour by car

From Suvarnabhumi International Airport

About 40 minutes by car